The future of learning!
Over the last several years, we have seen a shift in the way both children and adults learn. Adults, especially, need to learn whenever they can. Traditional courseware and classrooms have been replaced with digital apps and smart devices. If your company needs help in moving its training to a virtual platform, our tools are just what you need.
You may be won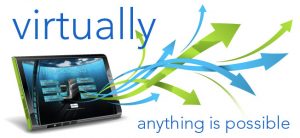 dering how to implement this training in your specific industry.  Many who are reading this are trying to "think outside of the box."  Maybe you are a not-for-profit that is trying to build a volunteer team to accomplish a special mission.  Maybe you are a service organization (real estate, medical, legal) and you are looking to streamline your new employee orientation or have consistency in your training processes.  Maybe you are an office that needs to train their team on office products.  Whatever training you are trying to move to a virtual environment, let us help you explore the possibilities.
There are several pathways to complete your vitual build.  We find that some just want the tools and they are off and running.  Others, would like to take care of their build, but need some assistance in planning.  And finally, we have those who don't want to deal with it, but want it done.  In all three cases, we have a team of experts that can coach, assist, and do.
Our Virtual Class Builder Mission:
It is our mission to provide customized learning management systems that bridge the gap between corporate instruction and employee comprehension. Sometimes that is already in place, but needs to be put on a virtual platform.  Sometimes it takes an outside perspective.  Either way, it is our goal to help all companies achieve success in their training and employee growth programs.  Let us know how we can help your team build a successful virtual platform.